I am super excited to say that it is my Mum's wedding next month!! So, in honour of that, I have put together a special DIY Saturday, featuring ten of the best projects I found during my months of browsing all-things wedding!
If you happen to be planning your own wedding, I hope you find some inspiration here-if you're not, just enjoy!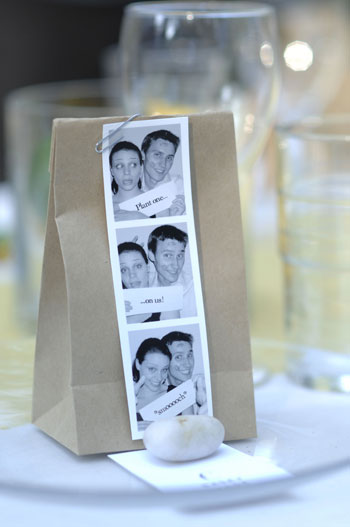 So many ways to do favours but this is so sweet because it's personalised! It's fun and heartfelt-perfect for the celebration of a marriage!
Found here.
Another cute suggestion for favours is this idea from Martha Stewart. Have a bespoke tea blended for the occasion and give each guest a little bag as a thank you for coming. I think this is adorable! Just be sure not to get them wet!
Found here.
A fun way of presenting dessert, especially for a summer wedding. Of course, I'm biased because of the jars-you know how I love my jars!!
This is a very simple but certainly effective centrepiece idea. Your tables will look rustic and relaxed with these recycled bottles and wildflowers.
I really love the thought of using teapots as centrepieces! A good excuse to trawl some charity shops for your some cute teapots that could then be filled with the flowers of your choice-gorgeous!
Guestbook Ideas:
I love this idea for an alternative guestbook! Just make sure the kids don't get hold of the ink pads and ruin it ;-)
(Unfortuantely I couldn't find the link for the original image, so if you know the original source, do let me know!)
This is such a unique idea for a guestbook. Instead of just a big ol' book of writing, have your guests pop little messages inside mini envelopes for your reading pleasure later :-)
A very heartfelt gift for your bridesmaids. Personalised so they will never forget the day.
This is very, very sweet. The lyrics from the first dance written around a photo of the happy couple. Perhaps a nice gift idea for after the wedding.
These would be great to make as a gift for the newly-married couple. You could personalise them with the married name and play around with fonts.
There are SO many more I could feature but I would truly be here forever if I tried! There are a whole lot of clever, crafty people out there who know how to put together an amazing wedding on a shoestring!
I think the more personal touches you add to the day, the more special and memorable it becomes.
I really hope these projects have got your creative cogs whirring for your own big days. The beauty is that a lot of the ideas can be used for regular parties and events, not just weddings, so get crafting!!