I'm very excited today as the materials for my latest DIY project have arrived!!
I won't say too much about it as it will be a gift and I don't want to ruin the surprise if the lucky person happens to read this...let's just say it involves a bevel-edged wooden plaque and some printable vinyl.
I can't wait to get going on it! And of course, I will be posting the tutorial very soon after :-)
So for June's edition of "DIY Saturday" I thought I would go for a jewellery theme. I've always loved making jewellery, since I was around 12 or 13 I think, so what better theme to have this month!
(By the way, how are you guys finding the theme "DIY Saturdays"? Do you like them better than the non-themed posts? I just felt like having a theme adds a little extra interest and structure, but let me know what you think! I'm always, always happy to hear from you :-)
Right. On to the projects. Because I know you're all on the edges of your seats with anticipation!!
This is a really simple idea with a cute result! Just take ribbon and beads and get nifty with your needle :-)
I came across this adorable mini book necklace on my friend Cat's blog
One Hand in My Pocket
a while back. Isn't it just so perfect?!
A gorgeous tutorial for a pearl collar necklace-very on-trend right now.
I really do love anything involving the recycling of bookpages and this bracelet is no exception. A perfect homemade gift for the bookworm friend!
I love love LOVE this bunting necklace! Show me anything bunting-related and I'm head-over-heels!
How cute is this seahorse necklace?! This is created using plastic and nail polish, would you believe!
This great tutorial creates a gorgeous necklace using tulle and glass beads.
I'm in love with these thimble flower pot pendants! Very simple to do too :-) Definitely will be making some of these!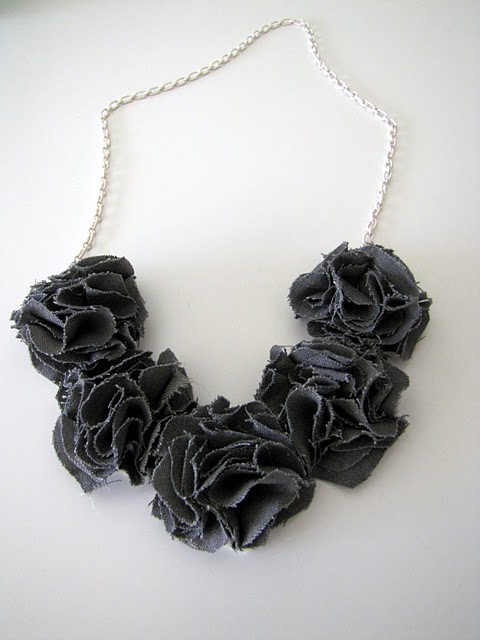 This is actually the tutorial I used for my own
Fabric Flower Necklace
but I thought it would be a bit cheeky to post mine on a round-up I'm hosting! This is a no-sew tutorial so very good for you sew-phobic people ;-)
A lovely bracelet tutorial involving pearl trim and wool
.
Oh wow, I still can't get over how amazing these projects are! It always comes down to me wishing there were more hours in the day to try them all out! I will definitely be trying the miniature book and thimble flower pot necklaces when I get a chance :-)